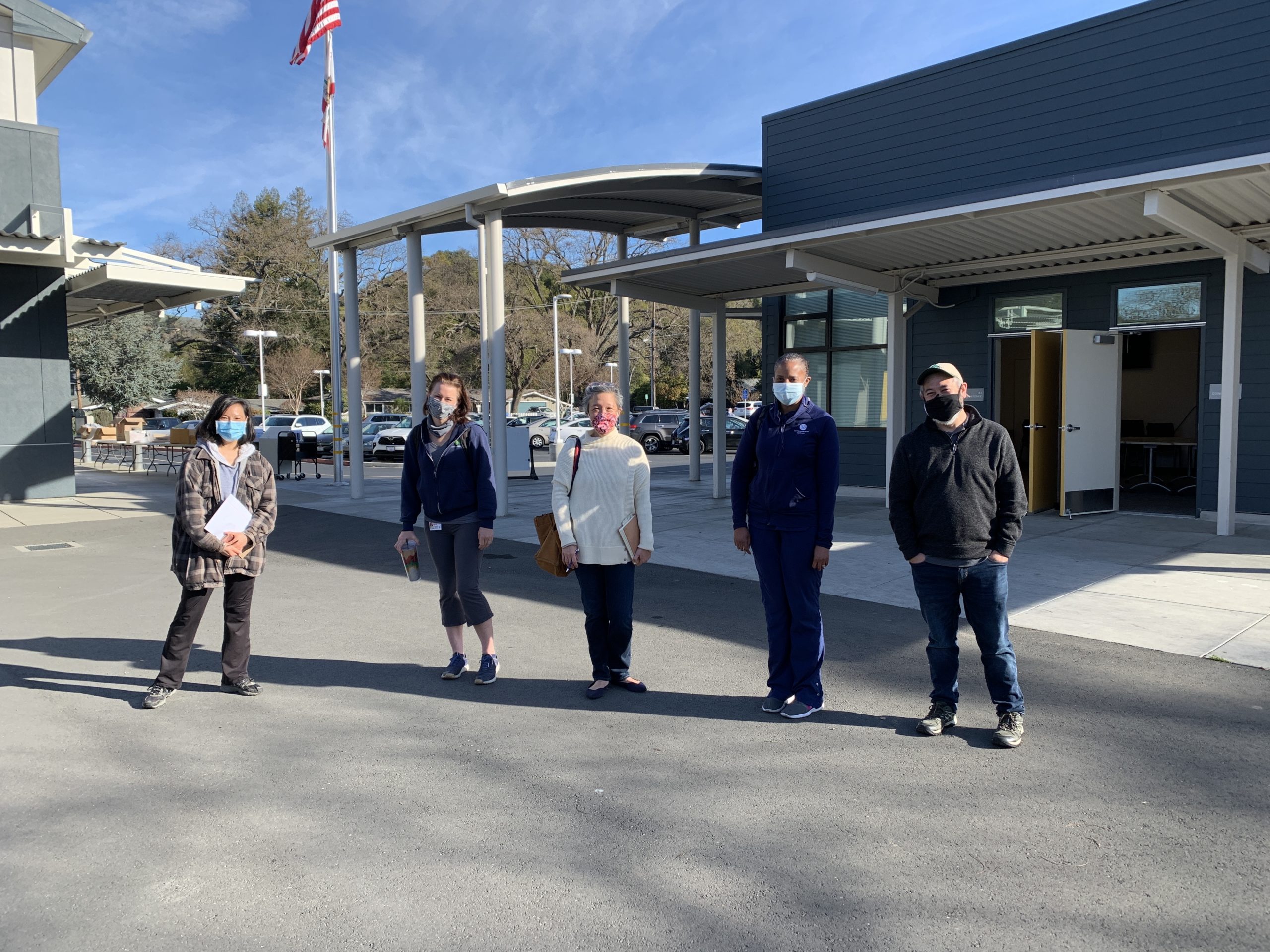 They say it takes a village to achieve great things. This week our 'village' is pulling together in a remarkable effort to administer the COVID-19 vaccine to thousands of local residents in a Lafayette drive through COVID-19 vaccination clinic. Initially, the effort will be focusing on the most vulnerable population of residents, aged 75 and older. Future plans to expand to individuals over 65, as well as teaching staff are in development.
As the COVID-19 pandemic sweeps our nation, this week California state public health officials announced that it is ramping up efforts to distribute the vaccine. Dr. Rebecca Parish and Dr. Denise Hilliard (both of Comprehensive Wellness) partnered with Suzy Pak (Community Volunteer), Kathryn Ishizu (Lamorinda Village), and Jonathan Katayanagi (City of Lafayette) to request an allotment of the Pfizer-BioNTech COVID-19 Vaccine for distribution to the community.
In just a few short days, over 100 community and clinical volunteers have put together a plan to administer thousands of doses of the Pfizer-BioNTech COVID-19 Vaccine to our local residents. The Lafayette drive through COVID-19 vaccination clinic will be held at Stanley Middle School beginning Saturday, January 16. Pre-registration for the event is REQUIRED and is CURRENTLY FULL. To be added to the waitlist, please fill out the form available on the Lamorinda Village website.
The medical community throughout the Bay Area has come together in an unprecedented way to implement this remarkable effort. Clinicians and medical staff from Bass Medical Group, Comprehensive Wellness, Guided Healthcare, John Muir Health, Kaiser, Lamorinda Pediatrics, Medical Anesthesia Consultants, One Medical, Orinda Medical Group, Sutter Health, and Stanford will be represented.
Coordinating the logistics of such a feat have involved collaboration and coordination with the City of Lafayette, Lafayette Parks & Recreation Department, Lamorinda Spirit Van, Lafayette Police Department and Public Works, as well as local school personnel – including the Stanley Middle School lead custodian, David Argueta, Principal Betsy Balmat, and Lafayette School District Superintendent, Richard Whitmore.

About the Pfizer-BioNTech COVID-19 Vaccine
The Food and Drug Administration (FDA) has not approved this vaccine for COVID-19; however, the FDA has authorized the emergency use of the Pfizer-BioNTech COVID-19 Vaccine to prevent COVID-19 in individuals 16 years of age and older under an Emergency Use Authorization (EUA). The vaccination series includes receiving two (2) doses (0.3 mL each) of the Pfizer-BioNTech COVID-19 Vaccine, three (3) weeks apart, into the muscle.
About Dr. Rebecca Parish and Comprehensive Wellness
Comprehensive Wellness, with offices in Walnut Creek, Lafayette, and San Ramon, California is a multi-disciplinary medical practice focused on building strong relationships with our patients to develop treatment plans tailored to each individual's unique needs. Comprehensive Wellness offers a full range of services for the entire family—from internal medicine to geriatric care, involving specialties such as women's health, behavioral health, musculoskeletal health, dermatology and aesthetic medicine, nutrition/weight loss, and multi-disciplinary programs.  Dr. Rebecca Parish is the Founder and CEO; she is board-certified in Internal Medicine. Dr. Denise Hilliard is the Medical Director, Internist, and Aesthetic Medicine Specialist. Both Dr. Parish and Dr. Hilliard, in addition to other Comprehensive Wellness staff, will be volunteering their time to support this effort.
About Lamorinda Village
Lamorinda Village is a community-based network of people over age 55 living in Lafayette, Moraga, and Orinda, California. The purpose of Lamorinda Village is to provide the support and connections that will help seniors remain in their own homes as they age. Lamorinda Village provides ways for members to gain access to valuable and relevant information, to connect with one another through shared experiences and to develop a sense of value and belonging in our own Village community. Our world may shrink as we age, but Lamorinda Village is here to provide opportunities to expand that world.
About Lamorinda Spirit Van
The Lamorinda Spirit Van Program has been in service since June, 2006. It normally provides rides to older Lamorinda residents (age 60 and up) for errands, shopping, medical and personal appointments Monday through Friday; however, they are offering modified service during the COVID-19 Stay at Home Order. At present, the Lamorinda Spirit Van is only providing delivery service from Lafayette essential businesses. Drivers are primarily volunteers.